For skiers who want guaranteed sunny days, a laid back vibe, the potential for an occasional powder day, and backcountry skiing options then Altay is the place to go.  The continental nature of the storms here means it's either snowing or clear and the region offers pleasant conditions with cold temps but light wind.  skiChina was in Altay during the winter of 2014 which was a really lean year but we have heard reports that they generally receive a healthy dose of natural snow over the course of the winter. The best lodging is at the Gold Bridge Hotel, which has a nice view of the ski area.  In Altay city the airport is close, the food is good, and the VIP rooms at the mountain offer slope side views from big couches.  There isn't much going on in Altay or at the resort but those who are there to ski will certainly be pleased with its offerings. Those expecting luxury hotels and spas will be disappointed but when we talked to local officials we heard reports of plans to develop a massive backcountry peak right outside of town.  They boasted it could be Asia's largest ski resort. These reports remain unconfirmed but we are certainly intrigued.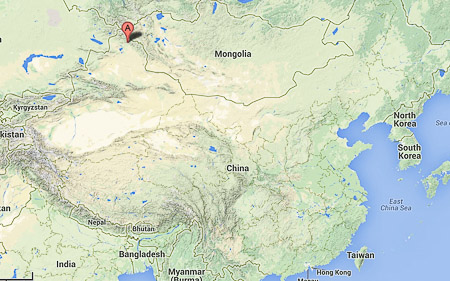 Altay city sits in a valley surrounded entirely by mountains offering unlimited backcountry potential. The region seems to receive more snow than other areas in Xinjiang including the ski resorts outside of Urumqi.  Hemu and Kanas villages to the north are rumored to have even more snow but access is more difficult. The whole region is known for its historical ski making tradition. Locals make skis by hand and attach horsehair to the bottoms to act as skins for ascending. National Geographic ran an article in December 2013 on the history of skiing here and its roots rival the ski traditions of Europe. Some even argue that skiing started in this region of of the world before it was know politically as China.
To access Altay, first fly into Urumqi and then take a regional flight into town or drive the 650k from Urumqi. The airport in Altay is close to downtown and seems to be the most convenient option for access to the small city. It is a city of 150k people and the resort is 5 minutes from the downtown area and hotel. Even the backcountry zones are a short drive outside of town. We didn't ski off piste but there is a road leading up to one of the larger bowls that looked like a very interesting option for the motivated skier.
Smog in Altay city is an issue because it is surrounded 360 degrees by mountains that create an inversion but once out of town and in the mountains skiers will be above it. Those seeking pure off-the-grid settings and are willing to put in the extra effort to get there Kanas and Hemu offer pristine backcountry zones but avalanches are a concern.
It is debatable that Altay could rival Changbaishan for the best skiing in China. The terrain is there and the weather is wonderful with clear skies and cold temps. Since it was a lean year we cannot make that judgment at this time. But if the rumors are true and Altay gets the snow, skiChina would bet on Altay as it doesn't have the red tape access issues the plague Changbaishan. Skiers can simply drive down a backcountry road slap on their skins and get lost in the mountains. We love the easy access to terrain, laid back vibe, interesting culture and sunny weather in the region and stay tuned for confirmation on average snow depths. That missing link could make or break Altay as China's best skiing destination.