250km and 4 hours drive from Beijing is the quickly developing ski town of Chongli. The town offers access to three major ski areas of Wanlong, Doulomedi and Genting Secret Garden.  For beginner or intermediate skiers these areas offer plenty of terrain and decent vertical with high quality lodging and facilities.  This is exactly what the Chinese market is looking for right now and this is the perfect resort area for 90 percent of global skiers, experts excluded.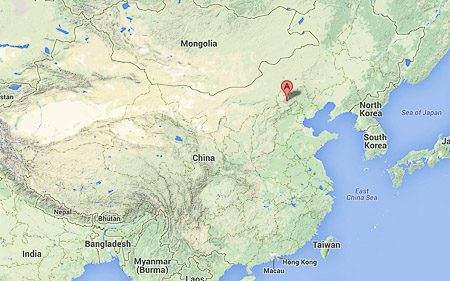 There are a few drawbacks for the more advanced skiers. Although it is similar in elevation to Yabuli and Beidahu it is not nearly as pretty. Instead of old growth hardwoods and evergreens blanketed in snow, smaller dryer scrub trees dot the brown mountains that surround the ski resorts. The area sits on the edge of the Gobi desert and doesn't receive much natural snow. Those who are into convenient access to trails deeply covered in manmade but perfectly groomed snow will be happy here. Skiers looking for powder and big terrain should bypass this area and head to Changbaishan or Altay. For slightly better skiing and prettier forests head to Yabuli or Beidahu instead.
Despite these drawbacks this is the epicenter of commercial skiing in China. The government is supporting rail and road projects to the region and it is developing fast. The 2022 winter Olympics will be held here and construction on the venues and transportation system has begun. Even before the Beijing 2022 announcement real estate and resort development had turned this agricultural backwater into a true Chinese ski resort destination. To sum it up, the easy drive from Beijing, sunny but cold days, lack of pollution and the wonderful facilities here make it a great destination for all but expert skiers.
More information can be found on the following links:
Chongli Town:
http://www.chinaskitours.com/chonglitown.html
Wanlong:
http://www.wlski.com/2014new/index.htm
http://www.chinaskitours.com/wanlong.html
Secret Garden:
http://www.secretgardenresorts.com/index.php/English/Index/index/t/summer
http://www.chinaskitours.com/gentingsecretgarden.html
Duolemeidi:
http://www.duolemeidiski.com(potentially invalid link)
http://www.chinaskitours.com/duolemeidi.html