Mention Changbaishan anywhere in China and the likely reply will be an enthusiastic "Ooohhh Changbaishan!" For some reason people just love this area and skiers are going to like it even more.
In theory, Changbaishan's off piste bowls offer the most accessible deep snow and open lines to date in China. There are caveats however. Just because there is a road leading up to the flanks of northeast China's highest peak (2745m) doesn't mean one can just stroll right in and check into a slope side hotel. The whole operation is in a highly protected national park. Two gates with buses that run from about 9am to 3pm control access to the area and there is no way to get a private car in there. This poses a problem for skiing out of bounds because by the time skiers arrive, buy all the tickets, get geared up, and have the snowmobiles run up to the summit it's going to be at least 10am and by 2pm the sled drivers are reluctant to take skiers up for another summit run. There are also no ski lifts at Changbaishan; only snowmobiles.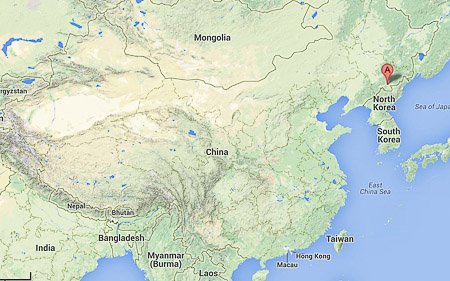 It is difficult to get quality skiing in while figuring out all the transport, tickets and dealing with the snowmobile drivers. The snowmobile drivers also keep a close eye on skiers. skiChina was scoping some nice tree lines and we were about to skin over to them when they swarmed in to tell us not to go there. They told us of deep canyons that are covered in snow and swallow up skiers. It is obvious that water running down the soft volcanic rock has definitely eroded deep channels but it is debatable if they would actually pose a serious threat to an informed backcountry skier. One thing to keep in mind here is that China's ski culture is young and people in charge don't understand what out of bounds skiing is. They assume that people heading off alone into the forest is always going to be dangerous. They are also more inclined to keep an eye on skiers because of the controlled nature of the park and proximity to North Korea. All of these are legitimate concerns but we reiterate; an informed and skilled backcountry skier with safety equipment will have more trouble with the bureaucracy of the mountain than the actual terrain.
The snowmobile operation runs on a fairly low angled bit of terrain and finding steep skiing requires a game of cat and mouse. The sled drivers bring skiers up to the summit and expect that they will ski right down the groomer. The drivers can't really leave the cat track because they don't have powder sleds so if skiers drop in somewhere or skin over to new terrain they just watch helplessly from the groomer. We saw a group of 4 snowboarders skiing a nice bowl off of the summit. It is questionable if this was allowed or if they just dropped in.
skiChina is not promoting reckless or disrespectful skiing on Changbaishan. We just want to manage expectations about the rules and logistics of Changbaishan. To put it in perspective we were traveling with a Chinese national and it was helpful to hear her say that even with the ability to speak and read Chinese she still found the whole operation somewhat of an enigma. It is unclear what is actually allowed here. Use good judgment, be respectful but try to enjoy the terrain here.
This whole area is a tremendous natural resource and could one day become a prime skiing spot if it was opened up further. As you can see from the pictures below there is some serious terrain lying just out of touch. skiChina is investigating ways to gain access to some of the bigger terrain around Changbaishan. Until this is sanctioned by the operator of the park skiers on the mountain will have to be prepared to explore on their own without getting into trouble with the park, falling into a crevasse or skiing into North Korea.
Changbaishan is best late season as it stays cold here long into spring. In early season the base is thin. We usually go in March and have not been disappointed by conditions. The pictures below show how much snow is on the buildings at the base and it is even deeper up top. Winds are a concern at elevation and some terrain has been wind scoured down to the bare rock. Leeward peaks receive some serious snow loading however.
Access to the west gate snowmobile ski operation is an hour from the Wanda resort and Changbaishan airport. Songjianghe is the last city on the road before the west gate. Skiers that fly in and are staying at the ski resort will not need to go to Songjianghe but those that can't afford the resort should ask a taxi driver to go to any of the cheap hotels there. It is a standard Chinese town but it provides just enough resources for an adventurous traveler. Taxis are abundant in both Songjianghe and at the resort and they will take travelers to the west gate. Getting a taxi back from the west gate to Songjianghe or Wanda ski resort might be a wait or even require a phone call so it is best to make arrangements for your ride home. For even more convenient but rather isolated accommodations skiers could stay at the 4 star Days Landscape Inn right at the west gate. (Unclear if they are associated with the Day's Inn chain)
The north gate's nearest city is Baihe 150km from Changbaishan airport and it offers hotels and access to the northern flanks of the mountain. There was a ski operation here but rumor has it that after a skier went missing they shut the place down. Check here for more info on both the north and west gates:
http://www.chinaskitours.com/changbaishan/changbaishannaturalski.html
In conclusion, Changbaishan Peak offers some stunning terrain and deep natural snow. Getting to the west gate from a major Chinese city is straightforward for those that take advantage of the resort accommodations and convenient airport location. The issue here is what happens after one enters the gate. The bus rides, the tickets, the snowmobiles and the restrictions can be tricky. Despite the annoyances skiers can still score here. Just watch the final segment of our film to see how deep the powder was.